A Breath of Kindness (SSAA) Lane Johnson
A Christmas Carol (SATB) Tim Laurio
Alleluia (SATB divisi) Pawel Lukaszewski
avoonan dbishmayya (SATB with solo) Ilyas Iliya
avoonan dbishmayya | Download Edition (SATB with solo) Ilyas Iliya
Come to Me, My Love (SATB) Trevor Maloney
Crystal Sky (SSA) Daniel Elder
Crystal Sky | Download Edition (SSA) Daniel Elder
Die Onse Vader (SATB divisi) Zander Fick
Even When He Is Silent (SATB divisi) Kim André Arnesen
Even When He Is Silent (SSAA) Kim André Arnesen
Gaudeamus omnes (SATB divisi) Marek Raczynski
Heavenly Hurt (Vocal/Conductor Score) (SATB) Alice Parker
His Eye Is On the Sparrow (SATB) Charles H. Gabrielarr. Shane Warby

Hlohonolofatsa (SATB) arr. Daniel Jackson

I Got a Hog and a Pig (SATB) arr. John Wykoff

I Should Be Glad (SATB divisi) Susan LaBarr
I'll Tell My Ma (SATB divisi) arr. Erik Reid Jones

Izar ederrak (SATB divisi) Josu Elberdin
Jenny Jenkins (SATB) arr. John Wykoff

Look Up, Look Down (SATB) arr. John Wykoff

Love Came Down at Christmas (SATB) David von Kampen
Love Came Down at Christmas | Download Edition (SATB) David von Kampen
Me-Na-Ri (Three SATB Choirs)
Meestelaulud (TTBB) Veljo Tormis
Miniyama Nayo (SATB divisi) Paul John Rudoi
Mo-Li-Hua (SATB) Hyo-Won Woo
Muusika (SATB) Pärt Uusberg
My November Guest (SSA) James Baas
Ndikhokhele Bawo (SSAA) (SSAA) arr. Mzwandile Mabuza

Northern Lights (SSAA) (SSAA) Ola Gjeilo
Northern Lights (SSAA) | Download Edition (SSAA) Ola Gjeilo
O Frondens Virga (SATB) (SATB unaccompanied) Drew Collins
O Magnum Mysterium (SATB divisi) Hyo-Won Woo
O Sing to the Lord (TB) Dan Davison
Õhtul (SATB) Pärt Uusberg
Pal-So-Seong (SATB divisi)
Praise Be to the Lord (SATB Double Choir) Odd J. Overøye
Praise Ye the Lord (TTBB) Dan Davison
Quem pastores laudavere (SATB) arr. Susan LaBarr

Salve Regina (SSAA) Josu Elberdin
Shady Grove (Vocal Score) (SSA) arr. Tom Shelton

She Walks in Beauty (TTBB) Connor J. Koppin
Shout for Joy! (SSAA) (SSAA) Dan Davison
Si mes vers avaient des ailes (SSA) Reynaldo Hahnarr. Tucker Biddlecombe

Sleep, My Little Sea (SA) Josu Elberdin
Taaveti laul Nr. 104 (SATB) Cyrillus Kreek
Tantsulaul (TTBB) Veljo Tormis
Teomehe-laul (TTBB) Veljo Tormis
The Bells (SATB) Dwight Bigler
The Snow Is Deep on the Ground (SATB divisi) Katie Kring
The Tree of Song (SSA) Thomas Juneau
Thy Little Ones (SATB) (SATB) arr. Brian Galante & J. Edmund Hughes

Thy Little Ones (SSA) (SSA) arr. Brian Galante & J. Edmund Hughes

Türgi sõja laul (TTBB) Veljo Tormis
Valgusele (SATB) Pärt Uusberg
Water (SATBB) Anders Edenroth
Willow-Wood (SATB) Daniel Elder
Willow-Wood | Download Edition (SATB) Daniel Elder
Purchase Walton Music editions from GIA Publications, Inc. by ordering from this site, or your favorite music dealer.
Retailers can obtain Walton editions from Hal Leonard.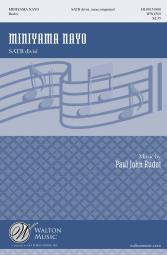 Miniyama Nayo
Listen & Preview first 8 pages
Buy for $2.65 from GIAmusic.com
Composer: Paul John Rudoi

Voicing: SATB divisi
Intrumentation: None
A whirlwind of bright harmonies, dance pulses, and syllabic play. A full-fledged theme and variations on…absolutely nothing. An addicting opener or closer to any program perfect for high school choirs and beyond. Duration: Approx. 3:20.
Video: South Salem High School Symphonic Choir; Will McLean, conductor
MP3 Recording by Painted Harmony
Language:
Nonsense
Choral Series:
Walton
Walton Number:
WW1569