Each Morning She Walks
by Charles Anthony Silvestri
Text Author : Eric Whitacre
© 2017 Walton Music
Frequent collaborators Charles Anthony Silvestri and Eric Whitacre mixed things up and switched rolls for Each Morning She Walks, with Tony writing the music and Eric writing the text. The mystical poem is brought to life through haunting ostinato-like figures and a lovely melodic line capture the essence of the mysterious hunter. A great opportunity to explore harmonies, tuning, and balance within your choir.
Recording Choir: Drake University Drake Choir; Aimee Beckmann-Collier, conductor
Click each track to listen.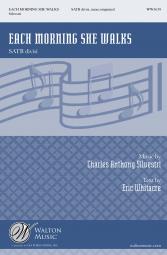 Status:
Available
Item #:
G-WW1639
Price :
$2.65
Quantity :
Please share Each Morning She Walks with your Facebook friends.
Related Items
Edition #
Title
Deliver
Composer
Series
pdf/mp3

Price

Qty
MP3 Downloads :