A Breath of Kindness
by Lane Johnson
© 2016 Walton Music
What an extraordinary text for women's chorus that speaks of the "comfort of feeling safe with a person." Excellent vocal writing that is beautifully supported and enhanced by the piano and flute. Commissioned by the BYU Women's Chorus.
Recording by the Brigham Young University Women's Chorus; Jean Applione, conductor
Click each track to listen.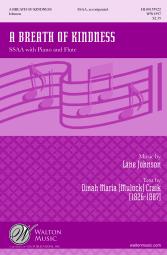 Status:
Available
Item #:
G-WW1597
Price :
$2.35
Quantity :
Please share A Breath of Kindness with your Facebook friends.
Related Items
Edition #
Title
Deliver
Composer
Series
pdf/mp3

Price

Qty
MP3 Downloads :