Like No God We Had Imagined
by Rory Cooney
New from Rory Cooney comes a glorious collection of music for the Advent and Christmas seasons. Many of the selections in this collection use tunes gathered from the traditions of various European cultures. Rory arranges these beautiful melodies and adds his own evocative texts, creating nostalgic yet new expressions of the Christmas story. The jewel in this Christmas crown is surely Rory's SAB arrangement of "In the Bleak Midwinter." It begins gently, quoting the first stanza of the Christina Rossetti text, then branches out into Rory's own moving exploration of Christ's incarnation. The "Christmas Gloria"— based on the familiar French carol "Angels We Have Heard on High"—employs the text from the 2010 Revised Order of Mass. In this arrangement the third stanza of the prayer soars above the final refrain as an exhilarating soprano descant.
Much of the newer music in this collection can be done a cappella. To enhance the texture, include the piano accompaniment, strings, and flute. Perfect for any choir large or small, the songs in Like No God We Had Imagined will add sparkle to your holiday liturgies.
Add individual MP3 tracks to your cart
Click each track to listen. Click the "Add To Cart" button beside each track to purchase an individual mp3 track. Or click "Add to Cart" on the right to purchase the entire album.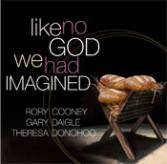 Status:
Available
Item #:
CD-965
Price :
$16.95
Quantity :
Please share Like No God We Had Imagined with your Facebook friends.