All Interest
Common Core
by Paul Kimpton / Ann Kimpton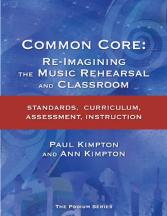 Authors outline how to use the Common Core State Standards to help students develop a higher level of understanding of musical skills and content, to help students engage with music more deeply and with more meaning. Intended for K–16 music educators, administrators, and pre-service educators, this book is an excellent resource that can have a profound impact on the music classroom.
Learn More


---
Curriculum Guide for Dog Tags
by Paul Kimpton / Ann Kimpton


This Curriculum Guide is designed to help teachers get the most out of the book Dog Tags: A Young Musician's Ultimate Sacrifice During WWII, the second in the Adventures with Music series
Learn More



---
Starting Early
by Paul Kimpton / Ann Kimpton


A new adventure series where the heroes are young musicians!
Learn More











---
Toward Center
James Jordan and Nova Thomas


In this book, conductor and educator James Jordan details how the power of Center grounds performance, teaching, and learning, bringing the reader full circle to the ideas first introduced in his best-selling book The Musician's Soul. Nova Thomas, an acclaimed singer and master teacher, relates how she employs Centering in her work preparing actors and vocalists for their life on the stage.
Learn More

---
NEW! Curriculum Writing 101
Denese Odegaard


This important book takes you through the steps needed to create an effective music education curriculum for you, your school, and your district. Learn More





---
Leadership Survival Guide DVD
and CD-ROM
Scott Lang


This hands-on package is essential for any educator looking to improve student performance in the classroom, on the stage, and beyond. It's a complete curriculum in a box! Learn More


---
What Every Musician Needs to Know About the Body
Barbara Conable


This book is a primer for any musician to reliably base a lifetime of playing. These principles will protect a musician from injury, promote the physical freedom and sensitivity for technical mastery, and secure the embodied intelligence that grounds musical power and subtlety. Learn More



---
The Finale Projects
Tom Carruth


The Finale Projects simplifies the learning process by introducing a unique and intuitive approach to mastering the program.
Learn More

---
Assessment in Music Education
Timothy S. Brophy


Integrating Curriculum, Theory, and Practice... Proceedings of the 2007 Symposium on Assessment in Music Education
---
Shaping Sound Musicians
Patricia O'Toole


Revised and updated
Learn More
Dog Tags
Paul Kimpton & Ann Kaczkowski Kimpton


A young boy and his faithful dog face a big decision. The second adventure in the series where the heroes are young musicians! Learn More


---
Summer of Firsts
by Paul Kimpton / Ann Kimpton


World War II enters a new phase, summer is in full swing, and Dale Kingston, the boy who saved the Conn Musical Instrument factory from burning to the ground in Starting Early (Volume One in the Adventures with Music series) faces his biggest adventure so far: Junior High School. Learn More


---
Scale Your Way to Music Assessment Paul Kimpton / Delwyn Harnisch


Scale Your Way to Music Assessment is a hands-on, step-by-step action plan for using assessment to improve your teaching and your students' performances. Learn More


---
The School Choral Program: Student Motivation DVD
Tim Lautzenheiser / James Jordan


In this brilliant DVD, master clinician Tim Lautzenheiser speaks to the students of the Central Bucks West High School choir and band about how to bring leadership thinking into their everyday lives and music making.
Learn More



---
The Conductor as Leader
Ramona M. Wis
Principles of Leadership Applied to Life on the Podium.

---
Practicing Successfully:
A Masterclass in the Musical Art
Elizabeth A. H. Green
Her long-awaited final book.

---
Pathways
Joseph Alsobrook


A guide for energizing and enriching band, orchestra and choral programs.
---
Leadership: Vision, Commitment, Action
Tim Lautzenheiser


A compelling resource to turn to again and again for wise counsel from an expert with decades of experience inspiring future leaders.
Learn More
---
The Musician's Walk: An Ethical Labyrith
James Jordan


Thoughts on the ethical questions all musicians face.
More General Interest
Testing Resources
Curriculum Guide for Starting Early
by Paul Kimpton / Ann Kimpton


This Curriculum Guide is designed to help teachers get the most out of the book Starting Early: A Boy and His Bugle in America During WWII, the first in the Adventures with Music series...a series where the heroes are young musicians
Learn More
---
Grading for Musical Excellence
by Paul Kimpton / Ann Kimpton


Grading for Musical Excellence, complete with workbook exercises and reflective questions, encourages music educators to "forget the baggage" and work as a team to assess the current grading system and move to the next level, incorporating the latest research about grading.
Learn More
---
Bringing Music to Life
Barry Green


Three distinct sections delve deeply into the methodolgy, techniques, and inspiration required to energize and enliven music making for amateurs and professionals alike.
Learn More
---
Case Studies in Music Education
(Second Edition)
Frank Abrahams / Paul Head


Case Studies in Music Education— Second Edition is about making the journey as a music teacher, about the critical real-world problems and conflicts music teachers face that rarely seem to get any notice in college or graduate school music courses. Learn More


---
Music Teacher Self-Assessment
James O. Froseth, Molly A. Weaver


After a three-year research program at the University of Michigan, researchers James Froseth and Molly Weaver found that regular viewing and analysis of your own teaching can bring dramatic improvements.
Learn More



---
Handbook for the Beginning Music Teacher
Colleen Conway / Thomas Hodgman
This practical and essential resource guides preservice and beginning music teachers through the most difficult years of music teaching.
---
Improvisational Games for
Classical Musicians
Jeffrey Agrell


500+ Non-jazz Games for Performers, Educators,
and Everyone Else.
---
The Anatomy of Melody:
Exploring the Single Line of Song
Alice Parker


Journey back to the very basis of song ...
---
Developing Musicianship through Improvisation
- C Instruments
Christopher Azzara and Richard Grunow
Learn to improvise with this state-of -the-art book and CD set.