With Gratitude
Celebrating the Liturgical Music Legacy of David Haas, Marty Haugen & Michael Joncas
by David Haas / Marty Haugen / J. Michael Joncas
For decades, the music of David Haas, Marty Haugen, and Michael Joncas has been on the lips and inscribed on the hearts of God's people. These three icons of sung praise are renowned for their ability pour God's love into the works they compose. Collectively they have created a vast wealth of songs, hymns, psalms, and ritual music for worship—music that has been forever woven into the very fiber of our faith. With Gratitude gathers their most beloved songs and a few new ones together in joyful celebration of the profound impact their music has made on the people of God.
Add individual MP3 tracks to your cart
Click each track to listen. Click the "Add To Cart" button beside each track to purchase an individual mp3 track. Or click "Add to Cart" on the right to purchase the entire album.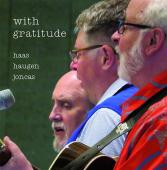 Status:
Available
Item #:
CD-1006
Price :
$16.95
Quantity :
Please share With Gratitude with your Facebook friends.
Related Items
Edition #
Title
Deliver
Composer
Series
pdf/mp3

Price

Qty
Related editions:
G-9397
With Gratitude - Music Collection

David Haas / Marty Haugen / J. Michael Joncas

$30.00