Discoveries
GIA WindWorks Series
2016
Since the inception of the projects, composers, conductors, music critics, and connoisseurs worldwide have praised the recordings conducted by Eugene Migliaro Corporon for their innovation, excellence, and professional standards. These exceptional videos and compact discs identify and preserve the standard repertoire and globally encourage composers to contribute to the ever-growing legacy of great music that has the power of universality. The breadth and variety of the discs highlight the fact that the wind symphony, in its many forms throughout hundreds of years of music history, has been and continues to be a significant original medium for serious aesthetic expression. The projects have yielded more than 100 discs that showcase the creative energy of thousands of world-renowned composers and gifted musicians. Winds magazine offers the following regarding the body of work: "This series has immense historic value in documenting the best of the repertoire...as well as providing much sheer listening (and viewing) pleasure for the level of artistry in the performances. The acoustic quality of the recording is state-of-the- art...All of the works are superbly realized and worthy of exploration...these discs represent the standards to which all must aspire."
Contents:
1. Sasparilla (John Mackey)

2–4. Masks and Machines (Paul Dooley)
2. I.
3. II.
4. III.
5. "The Earth" from The Planets for Trouvère (Jun Nagao)

6–10. American Symphony (Adam Schoenberg)
6. Fanfare
7. White on Blue
8. Rondo
9. Prayer
10. Stars, Stripes, and Celebrations
11–13. Divertimento (Jindrich Feld)
11. Little Overture
12. Intermezzo
13. Rondino
14. Elegy (John Corigliano)

15. Rio Grande (Michael Daugherty)


Add individual MP3 tracks to your cart
Click each track to listen. Click the "Add To Cart" button beside each track to purchase an individual mp3 track. Or click "Add to Cart" on the right to purchase the entire album.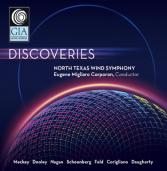 Status:
Pre Order
Item #:
CD-1005
Price :
$15.95
Quantity :
Please share Discoveries with your Facebook friends.