Inventions
GIA WindWorks Series
2016
The creation of the WindWorks label represents an expanded relationship between the North Texas Wind Symphony and GIA Publications. GIA's generous support and ongoing dedication to wind music has made it possible for the ensemble to continue producing recordings of the highest quality that are a testament to the perseverance and work ethic of everyone involved. While the first 34 releases in the series, initiated in 1989, remain with the Klavier label, this broadened alliance with GIA affords the opportunity to consolidate all of the current projects under one publishing roof. The diverse set of offerings consists of WindWorks (which includes the CD and DVD series), the Composer's Collection, and the Teaching Music through Performance in Band resource recordings. Partnering in this way creates exciting possibilities that allow the imaginative output to stay focused on the ongoing mission: to provide first-class recordings that accentuate the comprehensiveness, depth, and value of the wind symphony medium and its music.
Contents:
1. For the President's Own (John Williams)
2–4. Three Short Stories (Gernot Wolfgang)
2. Uncle Bebop
3. Rays of Light
4. Latin Dance
5. In the World of Spirits (Bruce Broughton)
6. The Ringmaster's March (John Mackey)
7. Winter Dreams (Michael Daugherty)
8–10. Wine-Dark Sea (John Mackey)
8. Hubris
9. Immortal Thread, So Weak
10. The Attentions of Souls
Add individual MP3 tracks to your cart
Click each track to listen. Click the "Add To Cart" button beside each track to purchase an individual mp3 track. Or click "Add to Cart" on the right to purchase the entire album.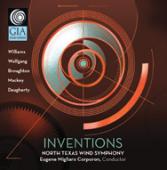 Status:
Available
Item #:
CD-1004
Price :
$15.95
Quantity :
Please share Inventions with your Facebook friends.