Le Colibri
The Hummingbird
by Ernest Chausson
Text Author : Leconte De Lisle (1818-1894)
Arranger : Mari Esabel Valverde
© 2017 Walton Music
Visions of a vivid spring are painted into sound with gently rising and falling melodic lines over captivating harmonies. This beautiful arrangement offers many teaching moments for choirs both young and old. Lynne Gackle Choral Series.
Recording Choir: Baylor Bella Voce; Lynne Gackle, conductor
Series :
Lynn Gackle
Number of Pages :
12
Difficulty Level:
E/M
Vocal Forces:
SSA
Click each track to listen.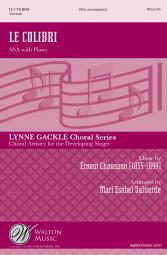 Status:
Available
Item #:
G-WLG156
Price :
$2.75
Quantity :
Please share Le Colibri with your Facebook friends.
Related Items
Edition #
Title
Deliver
Composer
Series
pdf/mp3

Price

Qty
G-WLG157
Les Papillons


The Butterflies




SSA

Ernest Chausson
Arr. Mari Esabel Valverde
Lynn Gackle
$2.75
G-WLG151
Hébé


SSA

Ernest Chausson
Arr. Mari Esabel Valverde
Lynn Gackle
$2.30
MP3 Downloads :