Teaching Band and Orchestra - Second Edition
Methods and Materials
by Lynn G. Cooper
© 2015 GIA.
Teaching Band and Orchestra: Methods and Materials is a classic in the field of instrumental music education—the ideal text for college instrumental students and an invaluable reference for practicing teachers.
This book covers every critical area in the professional life of band and orchestra teachers at the beginning and secondary levels. Author Lynn G. Cooper shares the experience and knowledge he has gained from more than 40 years of teaching instrumental music and music education.
Topics include recruiting and retention, creating lesson plans, assessment, curriculum development, selecting literature, running effective rehearsals, organizing concerts, and much more.
This Second Edition is significantly expanded and updated, including major new sections on advocacy, technology, and the challenges of teaching middle school students. There are new suggestions for teaching strings, completely new and expanded string and full orchestra literature lists, and more suggestions for the non-string player who is assigned a string class.
Also included in this Second Edition are additional student assessment strategies, updated Suggested Band Literature Lists, and more examples of effective warm-up and technique-building literature for rehearsals.
Teaching Band and Orchestra: Methods and Materials also goes into detail about the administrative realities of being a music teacher, from the job search to fundraising to motivating your students.
A plethora of forms, sample letters, charts, and lists of suggested literature round out this enlightening text. Sample course syllabi and additional supplemental resources are available on line.
Teaching Band and Orchestra: Methods and Materials provides instrumental music teachers with the tools necessary to be successful in the classroom or on the podium.
Dr. Lynn G. Cooper retired in 2007 as Chair of the Music Department and Professor of Music at Asbury University in Wilmore, Kentucky. During his twenty-two year career at Asbury University he conducted the Concert Band and taught courses in conducting and instrumental music education.
Prior to his 1985 appointment at Asbury University he taught in the public schools of Michigan for nineteen years. The last fourteen of those years were spent developing an outstanding band program at Ypsilanti High School. He also founded, and for seven years conducted, the Ypsilanti Community Band, an excellent adult concert ensemble.
Dr. Cooper is an active adjudicator, clinician, guest conductor, and author. An active presenter at professional conferences, Dr. Cooper has given clinic-lectures at state, regional, and national conferences throughout the United States. He presented at the 2006 MENC National Conference, the Texas Bandmasters Association Conference in 2006, and the Midwest International Band and Orchestra Clinic in 2004 and 2008.
He served on the Board of Directors of the Kentucky Music Educators Association (KMEA) for sixteen years, including a two-year term as President. He was awarded the Distinguished Service Award from the KMEA in 2009. Dr. Cooper serves as Chair of the KMEA Band Music Selection Committee. He also serves on the Board of Advisors of the Center for Music Education at Sam Houston State University in Texas.
Dr. Cooper received his Bachelor of Music and Master of Music degrees from The University of Michigan, and his Doctor of Education degree from the University of Kentucky.
Part I: The Beginning Program; Chapter One: Laying the Foundation; Chapter Two: Recruiting and Retaining Beginning Students; Chapter Three: Planning for Success; Part II: The Secondary Program; Chapter Four: Building a Curriculum; Chapter Five: Selecting Literature and Organizing the Music Library; Chapter Six: Running Effective Rehearsals; Chapter Seven: Performances and Programming; Chapter Eight: Considering Some Core Issues; Chapter Nine: Organizing and Administering the Program; Chapter Ten: Organizing and Administering Your Teaching; Chapter Eleven: Handling Business Issues; Part III: The Big Picture; Chapter Twelve: Knowing the Profession Today; Chapter Thirteen: Exploring Personal Issues for the Music Educator; Chapter Fourteen: Contemplating Then and Now in Music Education; Chapter Fifteen: Contemplating Why in Music Education;
Download sample course syllabi and a sample exam from Teaching Band and Orchestra
Elementary and Middle School Methods Syllabus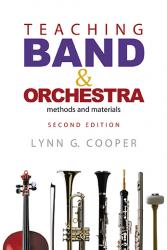 Status:
Available
Item #:
G-9084
Price :
$47.95
Quantity :
Please share Teaching Band and Orchestra - Second Edition with your Facebook friends.