Hébé - Harp Part
by Ernest Chausson
Arranger : Mari Esabel Valverde
2015 Walton Music
Harp part for WLG151, Hébé.
Series :
Lynn Gackle
Number of Pages :
4
Vocal Forces:
Harp Part
You may order a print version of this product to be shipped to you or a digital PDF version that you may download immediately after checkout. Please view the preview of this PDF to make sure it's what you want.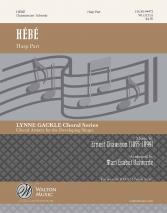 Status:
Available
Item #:
G-WLG151A
Price :
$4.50
Quantity :
Please share Hébé - Harp Part with your Facebook friends.
Edition #
Title
Deliver
Composer
Series
pdf/mp3

Price

Qty
G-WLG151
Hébé


SSA

Ernest Chausson
Arr. Mari Esabel Valverde
Lynn Gackle
$2.30