Jesus, Lover of My Soul
by Greg Scheer
Text Author : Charles Wesley
Editor : Pearl Shangkuan
Music © 2015 GIA.
Greg Scheer's arrangement of Charles Wesley's stirring text embodies the push and pull of the soul during times of temptation though the changes in musical intensity throughout the hymn. This piece for SATB voices and piano offers a wide variety of vocal textures that will invigorate your choir.
Add individual MP3 tracks to your cart
Click each track to listen. Click the "Add To Cart" button beside each track to purchase an individual mp3 track. Or click "Add to Cart" on the right to purchase the entire album.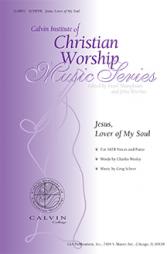 Status:
Available
Item #:
G-8891
Price :
$2.45
Quantity :
Please share Jesus, Lover of My Soul with your Facebook friends.
Related Items
Edition #
Title
Deliver
Composer
Series
pdf/mp3

Price

Qty
MP3 Downloads :