A Stephen Foster Medley
by Stephen C. Foster
Text Author : Stephen C. Foster
Arranger : Jon Washburn
2006 Walton Music
This glorious piece of Americana includes familiar melodies such as 'Camptown Races,' 'Beautiful Dreamer,' and 'Oh Susanna,' and would be a wonderful feature item for a concert program. Offers tantalizing possibilities for performance and staging.
Click each track to listen.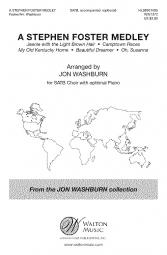 Status:
Available
Item #:
G-WW1372
Price :
$2.95
Quantity :
Please share A Stephen Foster Medley with your Facebook friends.
Related Items
Edition #
Title
Deliver
Composer
Series
pdf/mp3

Price

Qty
MP3 Downloads :