Offerings
GIA WindWorks Series
2014
Visit 2014 Midwest Clinic Page
North Texas Wind Symphony
Eugene Migliaro Corporon, conductor
Bolcom • Goto • Grantha Mackey • Márquez • Navarro Puckett • Wagner • Williams
GIA WindWorks represents GIA Publications, Inc. and Eugene Migliaro Corporon and the North Texas Wind Symphony's commitment to recording the very best in wind music. These audiophile quality recordings of these diverse offerings included in the WindWorks series are added to the Composer's Collection, the Teaching Music through Performance in Band recordings, and Master Conductors DVD series to provide the very best models for these important works for bands. This collaboration creates exciting possibilities and allows our artistic output to stay focused on the continued mission: to provide first-class recordings that accentuate the comprehensiveness, depth, and value of the medium and its repertoire.
Works included:
Downey Overture (2011)/Oscar Navarro • Farewell to Gray (2001)/Donald Grantham • Graceful Ghost Rag (2010)/William Bolcom • Ruffles Call from Afar (2014)/Yo Goto • Huldigungsmarsch (1864)/Richard Wagner • Avelynn's Lullaby (2011)/Joel Puckett • Sonata Allegro (1949)/Clifton Williams • Dánzon No. 2 (1994)/Arturo Márquez • The Frozen Cathedral (2013)/John Mackey
Add individual MP3 tracks to your cart
Click each track to listen. Click the "Add To Cart" button beside each track to purchase an individual mp3 track. Or click "Add to Cart" on the right to purchase the entire album.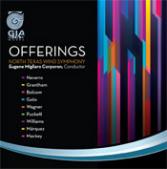 Status:
Available
Item #:
CD-962
Price :
$15.95
Quantity :
Please share Offerings with your Facebook friends.
Edition #
Title
Deliver
Composer
Series
pdf/mp3

Price

Qty
CD-961
Canvases - CD


GIA WindWorks Series

$15.95