A Summer Night, and You, and Paradise
by Benjamin Kornelis
Text Author : Garrison Keillor
2014 Walton Music
The composer has set Garrison Keillor's lovely words with sensitivity and care. Evoking the warmth, longing, and hopefulness of love. The setting allows for the choir to be driven by the natural rhythm and text stress of the poetry to shape each phrase. A beautiful love song not to be missed. Length: 5:10
Number of Pages :
12
Difficulty Level:
E/M
Vocal Forces:
SATB divisi
Accomp :
Piano
Click each track to listen.
You may order a print version of this product to be shipped to you or a digital PDF version that you may download immediately after checkout. Please view the preview of this PDF to make sure it's what you want.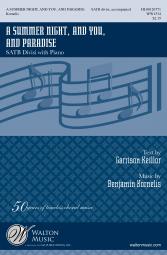 Status:
Available
Item #:
G-WW1534
Price :
$2.15
Quantity :
Please share A Summer Night, and You, and Paradise with your Facebook friends.
Related Items
Edition #
Title
Deliver
Composer
Series
pdf/mp3

Price

Qty
MP3 Downloads :