Elijah
by Dan Davison
2014 Walton Music
Dan Davison's gift for writing for developing voices is exemplified through this driving setting of the Biblical story of Elijah. The music is filled with articulations such as staccatos, tenutos, accents, and sforzandos, resulting in a lively and expressive performance. The baritone part is crafted with care so that all tenors and basses can comfortably sing. The perfect addition to your high school or middle school repertoire. Length: 2:45
Click each track to listen.
You may order a print version of this product to be shipped to you or a digital PDF version that you may download immediately after checkout. Please view the preview of this PDF to make sure it's what you want.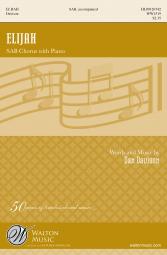 Status:
Available
Item #:
G-WW1519
Price :
$2.45
Quantity :
Please share Elijah with your Facebook friends.
Related Items
Edition #
Title
Deliver
Composer
Series
pdf/mp3

Price

Qty
MP3 Downloads :