The Wayfarer
Love entered in my heart one day
by Seth Houston
2014 Walton Music
This setting captures the mixture of despair, tenderness, and nostalgia found in one of Sara Teasdale's darker poems. The Wayfarer speaks of love as a "sad, unwelcome guest," a sentiment that the composer has captured expertly in his music. A wonderfully dramatic accompaniment will take a skilled pianist. Singers with the utmost expression will bring this unique setting to life. Length: 5:15. Jo-Michael Scheibe Choral Series.
Click each track to listen.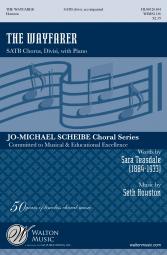 Status:
Available
Item #:
G-WJMS1136
Price :
$2.35
Quantity :
Please share The Wayfarer with your Facebook friends.
Related Items
Edition #
Title
Deliver
Composer
Series
pdf/mp3

Price

Qty
MP3 Downloads :