Lux Aurumque
by Eric Whitacre
Text Author : Edward Esch
2001 Walton Music
Now celebrating its 15-year anniversary!
For the setting of Lux Aurumque, the composer chose the Latin translation of an Edward Esch poem, enhancing the elegant simplicity of this new work. The tight harmonies will need to be carefully balanced by a well trained a cappella choir. Suitable for an advanced high school choir and beyond. Moderately difficult. Jo-Michael Scheibe Choral Series.
The 15th Anniversary edition includes an excerpt of handwritten manuscript.
Westminster Cathedral Choir
Number of Pages :
8
Difficulty Level:
M
Vocal Forces:
SATB divisi
Accomp :
None
Click each track to listen.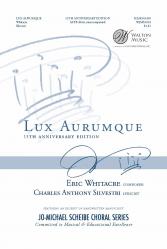 Status:
Available
Item #:
G-WJMS1024
Price :
$2.55
Quantity :
Please share Lux Aurumque with your Facebook friends.
Related Items