Abana
Arabic Lord's Prayer
by Laila Constantine
Text Author : Laila Constantine
Arranger : Greg Scheer
Editor : Pearl Shangkuan
Tune and Arabic Words © 2002 Council of Pastoral Work and Evangelism, admin. Faith Alive Christian Resources. English Words © 2008, 2012 Faith Alive Christian Resources. Arr. © 2015 GIA.
Greg Scheer's arrangement of "Abana," the Arabic Lord's Prayer, captures the powerful essence of the Lord's Prayer through its vigorous and intense melody. Suitable for concert settings or worship services, this piece heightens the impact of one of the most cherished passages in the Bible as sung prayer. The inclusive nature of text in both English and Arabic help to cross the borders of difference in culture and faith.
Series :
Calvin Inst
Text Source :
Arabic words by Laila Constantine; English words by Anne Emile Zaki, Emily R. Brink and Greg Scheer; Arabic
Songs of the Evangelical Presbyterian Church of Egypt
Music Source :
Tune
Songs of the Evangelical Presbyterian Church of Egypt
Number of Pages :
8
Difficulty Level:
E
Vocal Forces:
SATB
Accomp :
Keyboard
Bible Reference :
Matthew 6:9-13; Luke 11:2-4
Add individual MP3 tracks to your cart
Click each track to listen. Click the "Add To Cart" button beside each track to purchase an individual mp3 track. Or click "Add to Cart" on the right to purchase the entire album.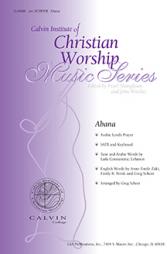 Status:
Available
Item #:
G-8488
Price :
$2.20
Quantity :
Please share Abana with your Facebook friends.
Related Items
Edition #
Title
Deliver
Composer
Series
pdf/mp3

Price

Qty
MP3 Downloads :