Spotlight
David Haas is highly regarded as one of the preeminent liturgical music composers in the English-speaking world, he has produced more than 45 collections of original music. His liturgical works are sung and prayed throughout the world and appear in hymnals of many Christian denominations and in many languages.
Featured Edition – Welcome as a Child of God / The Heart of the Poor by David Haas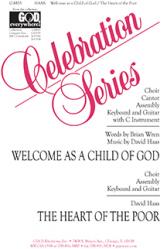 Contains "The Heart of the Poor" (G-8855) with words inspired by the wisdom of Archbishop Oscar Romero whose prophetic voice sought justice for the poor and oppressed. This brief but profound piece would make a wonderful meditation this weekend in honor of the Beatification of Archbishop Romero.