Experience the Chicago Summer Choral Reading Session from the comfort of your own computer!

This year, in order to reach all pastoral musicians in every city nationwide, we are excited to announce that we have video taped our Chicago choral reading session and are now making it available to you online. Now you can experience the Chicago GIA Summer Reading Session held in the beautiful and historic Old St. Patrick's Church, from your computer.
Spotlight
David Haas is highly regarded as one of the preeminent liturgical music composers in the English-speaking world, he has produced more than 45 collections of original music. His liturgical works are sung and prayed throughout the world and appear in hymnals of many Christian denominations and in many languages.
Featured Edition – God Is Everywhere! by David Haas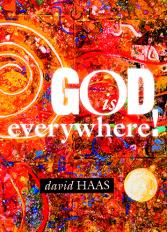 Born from David's great love and passion for youth ministry and inspired by the mission of Cretin- Derham Hall High School in St. Paul where he has been campus minister for the past three years, God Is Everywhere celebrates the life of faith and the intentional connection to peace and justice that the Christian Brothers and Sisters of Saint Joseph instill in their young students.