Spotlight
Tony Alonso is one of the most prominent voices in contemporary liturgical music. His music reflects an understanding of the multicultural needs of the contemporary church as well as a commitment to strong ritual music. In addition to several published collections of liturgical music, Tony's music appears in compilations and hymnals throughout the world...
Featured Edition – In Endless Song by Tony Alonso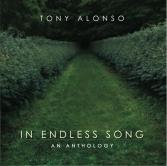 In Endless Song is a compilation of some of Tony's finest works gathered into one collection for the express purpose of facilitating personal prayer and reflection. These are some of Tony's most beloved pieces—songs that reflect most deeply his spirituality and his voice as a songwriter.