Touch the Earth Lightly

Thursday, June 18, 2015, Pope Francis will deliver his encyclical on global climate change and the environment. This unprecedented encyclical will call for all humanity to make drastic changes in our level of awareness and respect for the earth.

GIA supports our pope in his efforts to protect the planet. One small way you can help to engage your parish families in this important endeavor is to incorporate the pope's message into your liturgies. Below are a few music suggestions that center on themes of creation and the environment.

Of course, the creation and providence sections of GIA hymnals contain many suitable and obvious choices like "All Creatures of Our God and King" and "Canticle of the Sun," but here are some additional selections for congregational and choir use.

The GIA website also lists over 100 songs under the theme of creation. Simply use our advanced search tool and enter "creation" into the topic field.

G–7175 Touch the Earth Lightly—Tony Alonso
G–8842 For Every Child—Marty Haugen
G–8599 What Is the World Like?—Sally Ann Morris/Adam M. L. Tice
G–6164 The Blue Green Hills of Earth—David Haas
G–6603 For the Beauty of the Earth—Bernard Sexton
G–6874 All Things Bright & Beautiful—Fred Offutt
G–4281 Abundant Life—Marty Haugen
G–2891 Creating God—David Hurd
G–3329 Creating God—David Haas


Find out how a permanent hymnal from GIA can help your parish reduce its carbon footprint.

Read Pope Francis' encyclical on the care of our world here.
Spotlight
David Haas is highly regarded as one of the preeminent liturgical music composers in the English-speaking world, he has produced more than 45 collections of original music. His liturgical works are sung and prayed throughout the world and appear in hymnals of many Christian denominations and in many languages.
Featured Edition – God Is Everywhere! by David Haas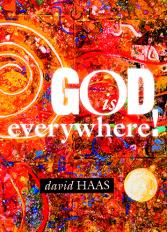 Born from David's great love and passion for youth ministry and inspired by the mission of Cretin- Derham Hall High School in St. Paul where he has been campus minister for the past three years, God Is Everywhere celebrates the life of faith and the intentional connection to peace and justice that the Christian Brothers and Sisters of Saint Joseph instill in their young students.