Watch the GIA Showcase at the NPM National Convention from the comfort of your own computer!

GIA streamed it's NPM 2015 Showcase live on Tuesday, July 7, 2015. Now we make it available for you to view at your leisure. Download a pdf of the showcase book and follow along on your computer. With our interactive showcase book, you can place your orders immediately.
Spotlight
David Haas is highly regarded as one of the preeminent liturgical music composers in the English-speaking world, he has produced more than 45 collections of original music. His liturgical works are sung and prayed throughout the world and appear in hymnals of many Christian denominations and in many languages.
Featured Edition – God Is Everywhere! by David Haas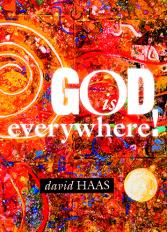 Born from David's great love and passion for youth ministry and inspired by the mission of Cretin- Derham Hall High School in St. Paul where he has been campus minister for the past three years, God Is Everywhere celebrates the life of faith and the intentional connection to peace and justice that the Christian Brothers and Sisters of Saint Joseph instill in their young students.