James Jordan's recordings have garnered wide critical acclaim, including a Grammy nomination for Annelies. Gramophone Magazine hailed Jordan as a conductor of "forceful and intimate choral artistry." The performances of both Anam Cara and The Westminster Williamson Voices have been dubbed "peerless and extraordinary."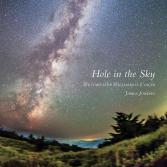 Hole in the Sky - CD
James Jordan
"I would tear a hole in the sky so I could pull out the heart of the moon for thee."
From "As I Walk the Silent Earth" by Thomas LaVoy
A stunning new recording from James Jordan and the Westminster Williamson voices. Music opens us to a more radiant and brilliant life through sounds and words. There is music that, by its very nature, "tears a hole in the sky"-the "sky" of our spirits and souls. Certain music, certain composers, and certain performances have a way of "tearing a hole" into us perhaps even bringing new meaning to what we do and how we live.

Learn more
| | | | | | |
| --- | --- | --- | --- | --- | --- |
| Title | Composer | Edition # | Price | Qty | |