Weston Noble (1922–2016)
Legendary choral conductor, teacher, and author, Weston Noble passed away yesterday, December 21, 2016, due to complications from a fall. He was 94 years old.

While we are deeply saddened by his passing and offer our most heartfelt sympathies to his family, the people of GIA also want to express their most profound gratitude to Weston for his important contributions to choral music and music education. He leaves behind a vast legacy and a wealth of knowledge that will continue to serve for generations to come.

Read the full story here.
Featured resources
Teaching Music through Performance
Celebrating 20 years of Teaching Music through Performance. Special anniversary anthologies from Tim Lautzenheiser, Edward S. Lisk, Ray Cramer, and Eugene Migliaro Corporon.
Habits of a Successful Orchestra Director
"This book is a must-read for all interested in teaching string orchestra at the K–12 level! Written by a seasoned and exemplary teacher—it is chock full of great teaching ideas that will help you be successful in your classroom! Buy it, read it, and keep it in your library—you will come back to it time and time again!".
Learn more
A summary of the practice of music advocacy, this book compiles research and thirty years' experience of one of the nation's most successful advocates for music education. It gives music educators, administrators, school board members, and community advocates step-by-step procedures for saving and building school music programs.
Learn more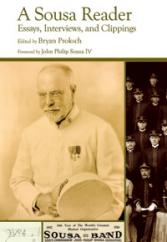 Sousa was opinionated and frank, yet also thoughtful, nuanced, and full of keen wit and a colorful sense of humor. While he existed largely in the popular sphere from the public's perspective, he saw himself firmly in the classical lineage that included Wagner and the greats. He was a Teddy Roosevelt-like figure for the musical world: a brash, self-confident American leading the nation to a bright future through innovation and capitalism...
Learn more

John Mackey & 2 Wind Works
New CDs! Discoveries and Inventions from the GIA WindWorks Series and John Mackey from the GIA Composer's Collection.


School boosters
Build the best school boosters clubs with Boosters to the Rescue! and Strategic Plans for a Successful Booster Club.


Featured Publications



Work-Life Balance for Music Educators

Real Stories, Real Strategies, Real Solutions

Paul Kimpton, Ann Kaczkowski Kimpton




Music Advocacy

Moving from Survival to Vision

John L. Benham




A Sousa Reader

Essays, Interviews, and Clippings

John Philip Sousa, IV, Bryan J. Proksch

Habits of a Successful Middle School Musician:
A Comprehensive Curriculum for Use During Fundamentals Time Scott Rush, Jeff Scott, Emily Wilkinson, Rich Moon, Kevin Boyle, Marguerite Wilder