How to Use Voice for Life
A Comprehensive Guide to the "Voice for Life" Scheme for Choir Trainers and Teachers
How to Use Voice for Life
A Comprehensive Guide to the Voice for Life Scheme for Choir Trainers and Teachers
How to Use Voice for Life is a comprehensive guide to the RSCM's acclaimed Voice for Life scheme. Written with choir trainers and directors in mind, it contains everything necessary to help singers get the most out of their Voice for Life choral experience.

How to Use Voice for Life supports all aspects of the scheme and its resources. Together with its companion volume, The Voice for Life Guide to Musicianship, (G-6390) it provides both a complete guide to training and assessing singers, and a generous source of technical and practical advice for anyone helping choral musicians to reach their full potential.
Learn more
The Voice for Life Guide to Musicianship
A Complete Resource for the Teaching and Assessment of Aural Awareness and Sight-Reading in the "Voice for Life" Scheme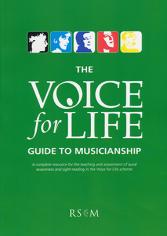 The Voice for Life Guide to Musicianship
A Complete Resource for the Teaching and Assessment of Aural Awareness and Sight-Reading in the "Voice for Life" Scheme
The Voice for Life: Guide to Musicianship
A complete resource for the teaching and assessment of aural awareness and sight-reading in the Voice for Life Scheme.
The Voice for Life Guide to Musicianship is a complete resource for choir trainers, choral directors, and the singers they work with. It contains all you need to train and assess singers for the musicianship targets at White, Light Blue, Dark Blue, Red, and Yellow levels, as well as extensive materials to prepare candidates for the aural and sight-reading test in the RSCM Bronze, Silver, and Gold awards.

The Voice for Life Guide to Musicianship is packed with practical help and advice, and fully supported by supplementary online documents.
Learn more
| | | | | | |
| --- | --- | --- | --- | --- | --- |
| Title | Composer | Edition # | Price | Qty | |
For more information on how Voice for Life works visit this page

Additional Voice for Life Resources
The Voice for Life Chorister's Companion
The Chorister's Companion is packed full of useful information for the budding chorister. It provides everything a new chorister needs to know in one handy pocket-sized book. This makes the ideal gift to choristers new and old. Candidates for the RSCM Bronze and Silver awards will also find much to help them prepare for their exams.
Includes chapters on:
• Using the voice well
• Musical skills and understanding
• Belonging to the choir
• The church and its worship
• The organ and a foreword from singer and radio presenter Aled Jones
| | | | | | |
| --- | --- | --- | --- | --- | --- |
| Title | Composer | Edition # | Price | Qty | |
Certificates, Medals and Lapel Pins
You must be a RSCMA member to order the items below. Please include your membership number in the comments section in your shopping cart.

About RSCMA
For information on RSCMA visit their website
Membership information visit this page
Online membership sign-up visit this page
Training Courses
For more information regarding training courses visit this page
RSCM Awards info
To download syllabi and entry requirements, and entry forms for Bronze, Silver, and Gold awards visit this page